Preparations for 2023 are well under way. Watch this space for updates.
Parade theme for 2023:

Proud to Call This Home
Information from last year: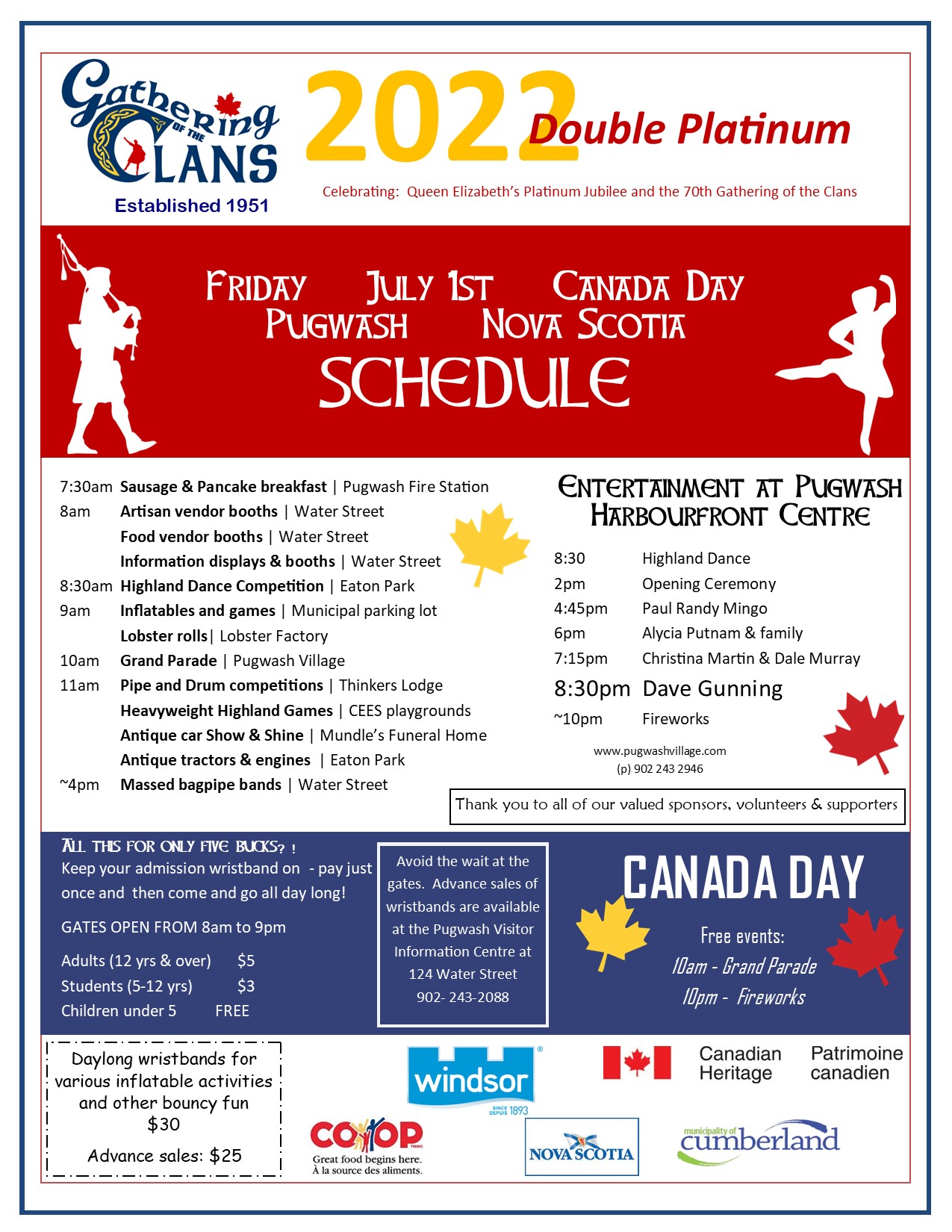 2022 PARADE WINNERS
Commercial
1st Place - Cunningham Construction
2nd Place - By the Bay Farm
Honorable Mention - The Elm Tree
Non-Commercial
1st Place - George Lockhart
2nd Place - Communities in Bloom
Honorable Mention - Friends of the Pugwash Estuary
Vintage Vehicles
1st Place - John and Nekllie VandeWeil
2nd Place - Alvin Macaulay, 1956 Ford Fairlane
Honorable Mention - entry # 12
Horses, Ponies and Novelty
Saddle Horse - Kirsteen Thomson
Saddle Pony - Louise Haycocks
Most Humorous
The Royal Funny Farm
The Gathering of the Clans has become the traditional way to spend Canada Day in Cumberland County. It is a party, Scottish style, with piping, drumming, highland dancing, highland games, artisans, midway, concerts, food and artisan vendors.

Early in the morning, local and international highland dancers take to the Eaton Park stage for ScotDance sanctioned competitions. Lovers of Pipes and Drums will enjoy the ACPBA sanctioned competitions on the grounds of the national historic site, Thinkers Lodge. At the Cyrus Eaton Elementary School, steely muscled athletes, dressed in their kilts, toss the caber and compete in other heavyweight highland games. Many of these competitors are Canadian and international champions at their sport.
When the pipe and drum band competitions are over, all musicians form a massed band which will march up Water Street as far as the Village Hall. Band prizes are then awarded. This will be at about 4pm.

The official opening is at 2 pm in Eaton Park, when local, Provincial and Federal representatives are led to the stage by a bagpiper to officially declare the Gathering of the Clans open!
Enjoy a wide range of food and then take in a wonderful afternoon of entertainment in Eaton Park. Wrap up the day by attending the evening's special stage show featuring the best of Maritime musicians and a spectacular Canada Day fireworks display over the waters of Pugwash Harbour.
Entertainers from the area entertain through the afternoon and evening, with internationally known entertainers headlining for the evening on Eaton Stage in Eaton Park.
2022 Entertainment line-up:
Paul Randy Mingo
Christine Martin and Dale Murray
Alycia Putnam & family
DAVE GUNNING

Recent headliners have included: JP Cormier, Lennie Gallant, Sons of Maxwell, Scott Macmillan & Brian Doyle, Matt Minglewood, Evans & Doherty and Rawlins Cross. The bands play until the fireworks are set off at dusk.

The Gathering of the Clans is a gated event. This allows us to keep the festival going with enough left over to donate to local non profit organizations, such as the hospital auxiliary. The Gates open at 8am and close at 9pm. The entrance fee is $5 for adults, $3 for students 5-12yrs and under 5s come in for FREE! There's lots to see and do for everyone in the family - all this just for 5 bucks!?

New this year - a variety of inflatables and games for children of ages. Purchase a special wristband and play all day for $30. Early bird special price (up until June 30th) is $25.
Traditional Canada Day events go on at the same time as the Gathering, with the Grand Parade at 10am and stupendous fireworks at dusk (about 10pm). The Parade winds its way along the village streets lined with throngs of people. We fill our parade with pipe and drum bands, floats, fire trucks, clowns, horses and surprises. Canada Day events are FREE
*~*~*~*~*~*

This Scottish festival started in 1951 when four local men, Bill Wilson, Bill Fillmore, Alex Walsh and Herbert Smith wanted to fund raise for the new local Red Cross Hospital. The Gathering became renowned for its highland dancing competition. In 1957, an Act of Nova Scotia Legislature incorporated the "Gathering of the Clans and Fisherman's Regatta." They chose to hold the events on Dominion Day (now Canada Day) as there were already holiday events being held that day.

The Gathering of the Clans is held every July 1st.

*~*~*~*~*~*
Everyone is welcome - come out and help us in 2023 celebrate the Gathering of the Clans in beautiful Pugwash by the sea!
*~*~*~*~*~*