Pugwash Post Office

Hours of Operation
Monday to Friday: 8:00am to 5:15pm
Saturday: 8:30am to 12:30pm
Phone Number: 1-800-267-1177
~**~~**~~**~~**~~**~~**~~**~~**~~**~~**~~**~~**~~**~
Cumberland Regional Library
The Canadian National Railway train station, designed by Sir Stanford Fleming, houses the Pugwash branch of the Cumberland Regional Library. Built in 1896, it is one of only two stations designed by Mr. Fleming that is still standing in Nova Scotia.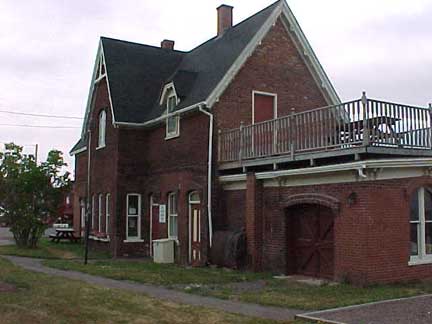 The library is an active place. In the year ending March 2006, it had lent 20,000 books –
more per capita than any other location in Cumberland County. It offers a variety of services: children's programs, authors reading, public computers, photocopies, etc.

Library hours are: Monday – 2:00 p.m. to 7:00 p.m.
Tuesday – 11:00 a.m. to 1:00 p.m., 2:00 p.m. to 5:00 p.m.
Wednesday – 11:00 a.m. to 1:00 p.m., 2:00 p.m. to 5:00 p.m.
Thursday – 2:00 p.m. to 7:00 p.m.
Friday – 1:00 p.m. to 6:00 p.m.
Saturdays – 9:00 a.m. to noon (October 1 to May 1. Closed Saturdays in the summer)
Phone: 902-243-3331
Librarian: Mary Hartling

~**~~**~~**~~**~~**~~**~~**~~**~~**~~**~~**~~**~~**~

The North Cumberland Historical Society
The North Cumberland Historical Society's mandate is to "collect historical and genealogical information for the North Cumberland area." Their records are extensive and available to the public. Books on founding families and the area's history are for sale. The Society also sells copies of historical photographs.

The Historical Society's office is located upstairs in the old Canadian National Railroad station at 10222 Durham Street. Volunteers are on duty Friday afternoons from 1:00 to 5:00. To make an appointment for another time, call 902-243-3448.

~**~~**~~**~~**~~**~~**~~**~~**~~**~~**~~**~~**~~**~

Pugwash & Area C@P Site
Tourist and residents of Pugwash are very fortunate indeed. We have a place where we can use computers for only $2.00 a day or buy a membership for $15.00 per year. Student rates are $1.00 per day and $7.50 per year. With this comes high-speed, wireless internet, the use of many software programs, and courses on how to use a computer or program and help from the on-duty volunteer. The C@P site also offers photo-quality printers, faxing, copying and laminating. A digital camera is available to rent. We can download photos from your camera card.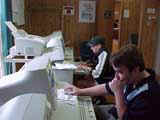 The C@P site is open year round. The hours are Monday to Friday from 9:00 a.m. to noon and from 1:00 p.m. to 4:00 p.m. Appointments may be made for other times. For more information, contact Chair Ray Jamison at 902-243-2088 or pugwash@hotmail.com

~**~~**~~**~~**~~**~~**~~**~~**~~**~~**~~**~~**~~**~

North Cumberland Memorial Hospital
North Cumberland Memorial Hospital (NCMH) in Pugwash, Nova Scotia was established in 1947 as a memorial to war veterans. Originally, one of 14 Red Cross outposts in the province, its operation was later transferred to a local board of directors funded by the Department of Health. The current facility, opened in 1966, was built with local support and fundraising.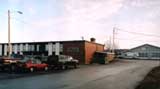 North Cumberland Memorial Hospital is currently approved for short stay acute care plus palliative care beds. The hospital provides a mix of in-patient, outpatient, ambulatory care clinics and health promotion services. NCMH provides 24-hour emergency/out-patient service utilizing an on-call emergency coverage system as well as diagnostic services through the laboratory and diagnostic imaging staff.

Emergency Health Services Nova Scotia has a newly constructed facility on the property to house ambulance staff and equipment and as well, an air ambulance landing area is located on site.

North Cumberland Memorial Hospital
260 Church Street
Pugwash, NS
B0K 1L0
Phone: (902) 243-2521
Fax: (902) 243-2941

North Cumberland Memorial Hospital Auxiliary – PO Box 171, Pugwash, Nova Scotia, B0K 1L0
or email: ncmhaux@gmail.com

The hospital auxiliary Thrift Shop is open:
Wednesdays 1-4pm
Thursdays 10am to 4pm
Saturdays 2am - noon
North Cumberland Community Health Foundation – PO Box 175, Pugwash, Nova Scotia, B0K 1L0
Website
~**~~**~~**~~**~~**~~**~~**~~**~~**~~**~~**~~**~~**~

East Cumberland Lodge
East Cumberland Lodge, overlooking the beautiful Pugwash Harbour, is a 74 bed Level I & Level II Nursing Home licensed by the Nova Scotia Department of Health. East Cumberland Lodge is committed to offering a high quality service to our residents and families by providing dignity and compassion.
For more information about East Cumberland Lodge, phone 902-243-2504 or visit our website at thelodgeinpugwash.com

~**~~**~~**~~**~~**~~**~~**~~**~~**~~**~~**~~**~~**~

Pugwash Fire Department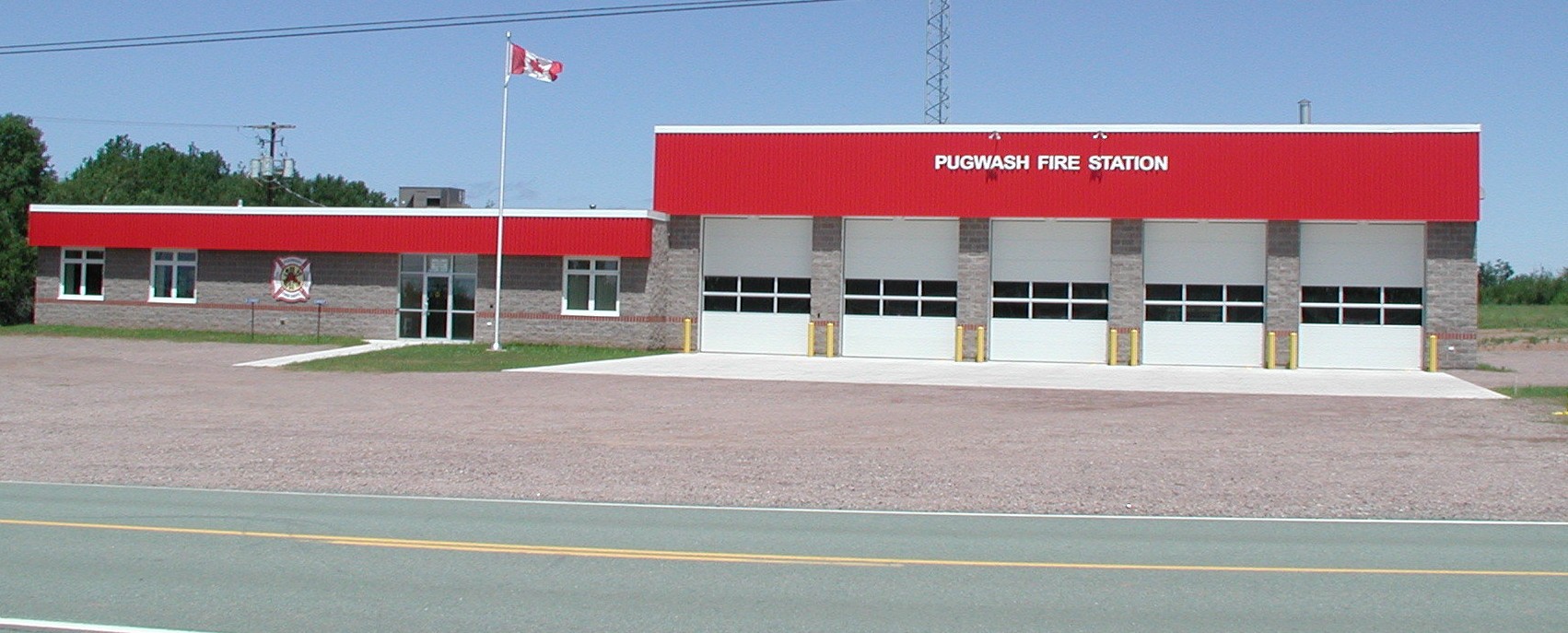 The Pugwash Fire Department is well trained and well equipped. The Department has 32 firefighters, 5 trucks, lifesaving equipment and rescue equipment.

Each volunteer contributes on average at least 200 hours annually. They hold weekly meetings for training sessions, to maintain equipment, and deal with business. The Pugwash Fire Department responds to fire and emergency calls through the Provincial 911 Answering System. The firefighters spend time promoting education and awareness. During Fire Prevention Week they visit each of our schools.

The Pugwash Fire Department moved into a new facility at the end of 2009. They are now located at
11057 Hwy 6, Pugwash, NS, B0K 1L0. They can be reached via phone on (902) 243 2600 or via email at pugwashfire@gmail.com and can be found on twitter @pugwashfire

~**~~**~~**~~**~~**~~**~~**~~**~~**~~**~~**~~**~~**~

Royal Canadian Mounted Police
Royal Canadian Mounted Police staffs the Pugwash office with four officers (a corporal and three constables) and a detachment assistant. They provide 24/7 coverage. Additional resources are available from one of three other offices in the Cumberland Detachment.

The RCMP is focussing on proactive policing. Officers spend many hours working closely with the community, giving it the tools necessary for safety and crime prevention.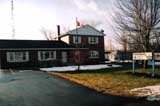 Starting with youth, the RCMP assigns each school a Liaison Officer. This officer meets regularly with students to discuss such topics as drug abuse, bullying and safety. They give senior citizens information about home safety, alarm systems, safe driving and scams.

Proactive policing keeps the community safe. One method used is frequent checkpoints, where unsafe vehicles and impaired drivers are taken off the road.

RCMP officers have a close working relationship with Victim Services, Children's and Family Services, Drug Addiction Services and local doctors. They meet with Crime Stoppers six to seven times per year.

The results of proactive policing are becoming significant. Crime in Pugwash has dropped while the clearance rate (solved cases) is now more than 80%. With proactive policing the RCMP find their biggest job is problem solving.

For more information on the Pugwash Detachment phone: 902-243-2181
Website

~**~~**~~**~~**~~**~~**~~**~~**~~**~~**~~**~~**~~**~

Ground Search and Rescue
The Pugwash Ground Search and Rescue (PGSR) is a volunteer group working for the Emergency Measures Organization (EMO). The Royal Canadian Mounted Police (RCMP) calls out the PGSR team to provide manpower and expertise to find lost persons. The RCMP also calls upon the unit to help teams in other parts of Nova Scotia. They average three call-outs annually but have responded to as many as twelve. The team owns a mobile command post for assignments that are of long duration or complicated. They are involved in helping with community events, such as the Gathering of the Clans, by providing security and assistance.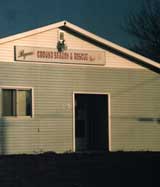 Pugwash Ground Search and Rescue teams train members to provincial standards. The volunteers must complete courses for Searcher, Radio Operator, Logistic and GPS usage. A professional trainer gives monthly training sessions at the local headquarters.

The Pugwash Ground Search and Rescue have twenty volunteers and they are looking for ten more. Applicants must be more than 19-years-of-age or 16-years-of-age with parents' permission. If interested in volunteering or wanting more information about the organization, find us on facebook or visit our website.
~**~~**~~**~~**~~**~~**~~**~~**~~**~~**~~**~~**~~**~

Royal Canadian Legion
The Royal Canadian Legion Peach Branch 60, opened just before WWII. In 1960, they moved from a downtown location to their new building on Durham St. This building provided space for a pub with pool tables and a hall for Legion meetings and events. Open 6 days a week except Sunday 2pm to 6pm.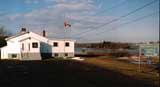 The Legion has always been an advocate for improving the lives of veterans and their families, but as times and needs change so does the Legion. Nationally, the organization contributes millions of dollars and voluntary hours to help Canadians – particularly veterans, seniors and youth.
The hall is available to rent for occasions such as wedding receptions, dances, bingos and cribbage tournaments. Contact: 243-2123 or by mail: PO Box 111, Pugwash, NS, B0K 1L0

Website

~**~~**~~**~~**~~**~~**~~**~~**~~**~~**~~**~~**~~**~

Sunset Residential and Rehabilitation Services
Sunset Community Services Inc. is a not-for-profit corporation representing and serving the needs of the mentally challenged and disabled.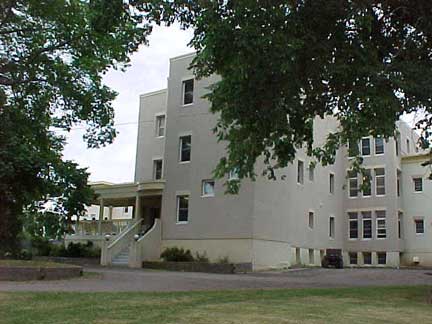 Sunset Community promotes and provides effective, efficient and integrated services through:
residential living options suited to the individual
day programs to meet the needs of persons living at Sunset and in the community
programs to teach life skills, vocational skills and social development
leadership in influencing the development of public policy
advocacy in representing the rights and responsibilities of the individual