Gathering of the Clans
Cruinneachadh nam Fineachan
established 1951
A hundred thousand welcomes
*** Tuesday, July 1st 2014 ***
Maritimers love to party and Pugwash is no exception. Canada Day, July 1st, kicks off our summer of parties with the Gathering of the Clans. This event is the first Highland celebration of the season. It is a party, Scottish style, with piping, drumming, highland dancing, highland games, artisans, midway, concerts, food and artisan vendors and stupendous fireworks display at dusk.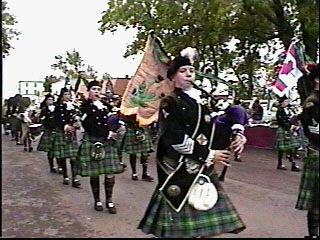 The Grand Parade winds its way along streets lined with throngs of people. We fill our parade with pipe and drum bands, floats, fire trucks, clowns, horses and surprises.

Early in the morning, local and international highland dancers take to the Eaton Park stage for ScotDance sanctioned competions. Lovers of Pipes and Drums will enjoy the ACPBA sanctioned competitions on the grounds of the national historic site, Thinkers' Lodge. At the Cyrus Eaton Elementary School, steely muscled men dressed in their kilts, toss the caber and compete in other highland games. Many of these competitors are Canadian and international champions at their sport.

The official opening is at 2 pm in Eaton Park, when local, Provincial and Federal

representatives are led to the stage by a bagpiper to officially declare the Gathering of the Clans open!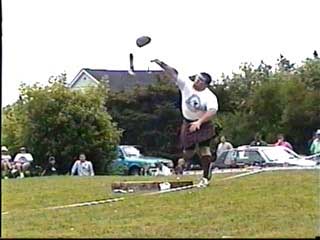 Enjoy a wide range of food and then take in a wonderful afternoon of entertainment in Eaton Park. Wrap up the day by attending the evening's special stage show featuring the best of Maritime musicians and a spectacular fireworks display over the waters of Pugwash Harbour.
2013's headliners were Evans and Doherty who played from 8:30pm until the fireworks were set off at dusk (about 10:15pm). Local favourites such as Eric Fresia and his family and Alicia Putnam and her family played at 6pm and 7:15pm. The popular Friday night Chatterbox house band, the Abandoned House Band, opened the stage at 4pm followed by Sweet Addictions from Amherst at 5pm.
The 1pm Children's Parade ends at the Village Hall. Soon after that (about 1:20pm), children's entertainer, Rocky Ripley, will play for the children on the grassed property behind the Village Hall.

2014 will celebrate the 63rd anniversary of the Gathering of the Clans. This Scottish festival started in 1951 when four local men, Bill Wilson, Bill Fillmore, Alex Walsh and Herbert Smith wanted a way to mark Dominion Day. The organizers had as their primary objectives, a good time and fundraising for the Red Cross Hospital. The Gathering became renowned for its highland dancing competition. In 1957, an Act of Nova Scotia Legislature incorporated the "Gathering of the Clans and Fisherman's Regatta."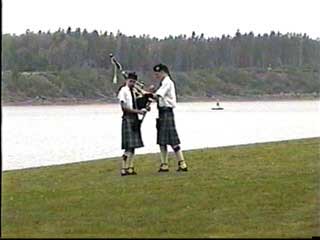 Though Dominion Day is now called Canada Day, the Gathering of the Clans' objective remains the same: fun for the family and fundraising for the community. Monies collected from the small entrance fee helps support our local hospital, library, volunteer fire department and school projects, etc.


The Gathering of the Clans is held every July 1st,

Everyone is welcome - come out and help us celebrate the 62nd Gathering of the Clans in beautiful

Pugwash by the sea!

~~~~~~~~~~~~~~~~~~~~~~~~

Gathering of the Clans

Registration Forms 2014

2014 Pipe and Drum Competition

Parade

Maps

map

Parade map for pipes and drums

Street map of Village with events

~~~~~~~~~~~~~~~~~~~~~~~~

LINKS:

Atlantic Canada Pipe Band Association

Festival of Tartans, New Glasgow,